My column in the New York Tiimes eXaminer is on Paul Krugman's column on the JPMorgan Stanley kablooey. The NYTX front page is here. ...
... ** NEW. I have another column in today's New York Times eXaminer, this one on David Brooks' attempt to explain Obama's popularity. The NYTX front page is here.
President Obama will appear on the ABC TV show "The View" Tuesday morning. Barbara Walters provides some clips:
President Obama delivered the Barnard College commencement address Monday:
NEW. Katrina vanden Heuvel in the Washington Post: "Richard Fisher, the conservative president of the Dallas Federal Reserve Bank, has been raising alarms about the big banks for years. The top five banks now control 52 percent of the financial industry's assets; they had 17 percent in 1970.... Fisher argues 'Complacency, complicity, exuberance and greed' are in our DNA. These 'human traits and weaknesses result in market disruptions,' Fisher says, that are 'occasional and manageable.' ... Big banks backed by government turn these manageable episodes into catastrophes.' Fisher would force the big banks to reorganize and get much smaller. And he would require 'harsh and non-negotiable consequences' for any bank that ends in trouble and seeks government aid, including removal of its leaders, replacement of its board, voiding all compensation and bonus contracts and clawing back any bonus compensation for the two previous years."
Jessica Silver-Greenberg & Nelson Schwartz of the New York Times: "In the years leading up to JPMorgan Chase's $2 billion trading loss, risk managers and some senior investment bankers raised concerns that the bank was making increasingly large investments involving complex trades that were hard to understand. But even as the size of the bets climbed steadily, these former employees say, their concerns about the dangers were ignored or dismissed. An increased appetite for such trades had the approval of the upper echelons of the bank, including Jamie Dimon...." ...
"Regression to the Mean, JPMorgan Edition." James Kwak of Baseline Scenario: "The performance of anyone doing anything will exhibit regression to the mean.... If JPMorgan came through the financial crisis well, it was some combination of skill and luck. Remember, JPMorgan didn't have as big a portfolio of toxic assets as its competitors because it was late to the party; only in retrospect do we ascribe this good fortune to the supposed skill of Jamie Dimon. JPMorgan was never as good as people (both supporters and critics) made it out to be, so we shouldn't be so surprised that it just lost $2 billion (and counting)." ...
... John Schoen of NBC News: JP Morgan Chase's "spectacular multibillion-dollar losses, still being tallied weeks after a risky trading strategy began to unravel, have renewed concerns that the government may not be up to the task of reining in the nation's biggest banks." CW: No kidding.
** Ezra Klein: prominent attorney Emmet Bondurant "alongside Common Cause, where he serves on the board of directors, [is] suing to have the Supreme Court abolish" the filibuster. ...
... New York Times Editors: "We have supported eliminating the filibuster for judicial and executive nominees. Making other filibusters harder would be good for both parties. If [Harry] Reid [D-Nev.] remains majority leader in January, he should lead the reform."
Ed Pilkington of the Guardian: "The Columbia Human Rights Law Review ... has cleared its entire spring edition, doubling its normal size to 436 pages, to carry an extraordinary investigation by a Columbia law school professor and his students. The book sets out in precise and shocking detail how an innocent man was sent to his death on 8 December 1989, courtesy of the state of Texas. Los Tocayos Carlos: An Anatomy of a Wrongful Execution, is based on six years of intensive detective work by Professor James Liebman and 12 students."
Speaking Truth to Powell. Charles Pierce: "Has there been a more vastly ove rrated person in the past 50 years than Colin Powell? He helped cover up My Lai. He did his part to make sure that the Iran-Contra mess never came fully to light. He buckled under to chickenhawk bullies in the Bush White House and did his part to lie us into a destructive war with a speech to the U.N. that he knew was based on stovepiped bullshit from people he already didn't trust. And still, people trust him and revere him.... And now, of course, he's back with another book in which he polishes his own apple to a high gloss while ducking his responsibility for the greatest foreign-policy foul-up of our time."
NEW. Oh, dear. Could these patriots be breaking the law they hold so dear? Stephanie Mencimer of Mother Jones: "the Tea Party Patriots ... is recruiting volunteers for phone banks and promising a massive outpouring of support for embattled Wisconsin governor Scott Walker.... As a nonprofit group, TPP is banned from devoting the bulk of its resources to campaign activities.... If it goes in for a big campaign in support of him, it may risk violating its tax exempt status. The IRS recently announced its intention to crack down on nonprofit groups operating as thinly veiled political campaigns, and many of its recent targets have been tea party groups."
And Krugman gets zapped:
... Via Daily Kos.
Presidential Race
Priorities USA, the pro-Obama superPac, provides the two-punch in the Obama campaign's attack on Romney's tenure as head of Bain Capital (but of course they don't coordinate with the O-campaign, because that would be illegal):
... I don't agree with Michael Scherer of Time on this, but he thinks the attack on Romney's business acumen might not work. ...
... For one thing, Pat Wells, who stars in the Priorities USA ad, is a self-described conservative who voted for Dubya & McCain. ...
... Steve Benen: "... for months, there's been a standard line from the GOP campaign...: what Romney did at his vulture-capital firm was similar to what the administration did when it saved the auto industry.... Romney exploited the companies he gutted to line his pockets and those of his investors. That isn't the same as what Obama did for GM and Chrysler; it's the opposite.... Obama ... wasn't motivated by profit; he was trying to save the American auto industry, the backbone of the nation's manufacturing sector, millions of American jobs, and the economy in the Midwest."
Are These People Paying Attention??? Lucy Madison of CBS News: "Presumptive Republican presidential candidate Mitt Romney has a slight edge over President Obama in the race for the White House in the latest CBS News/New York Times poll. According to the survey, conducted May 11-13, 46 percent of registered voters say they would vote for Romney, while 43 percent say they would opt for Mr. Obama."
Tim Egan: Mitt Romney is a weasel.
Say What? Greg Sargent: "... the Obama campaign began airing an ad attacking Mitt Romney over layoffs at Bain Capital, which the Obama team is holding up as emblematic of Romney's economic philosophy. Byron York reports that the Romney campaign has settled on a line of pushback -- compare what Romney did at Bain to what Obama did with the auto companies. ...
... Jon Chait of New York magazine: "One of the hidden reserves of profit discovered by Bain was the moneymaking potential opened up by breaking a social compact between workers and their bosses, a compact that increased the security of working life but held down the profit potential.... The old corporate ethos was well embodied by George Romney..., who as head of American Motors repeatedly turned down bonuses because he believed $225,000 a year (about a million and a half dollars today) was the highest salary an executive ought to earn.... Conservatives [today] have coalesced around the view that market incomes are inherently just. [Mitt] Romney himself has argued that to the extent that unfairness exists in the economy, it consists of intervention by the government or labor unions. The market is fair by definition." Read the whole post. ...
... Dueling Views of Bain. Amy Gardner & Philip Rucker of the Washington Post: Both the Obama camp & the Romney campaign produced ads yesterday about Mitt Romney's tenure as head of Bain Capital. "How the public comes to view Bain, a Boston-based company Romney led for 15 years, is critical to the former Massachusetts governor's chances in November. He has pointed to his time at Bain and the business experience he gained there as the singular reason he is the right man to fix the nation's troubled economy."
Shannon Travis of CNN: "A well-known, openly gay supporter of Mitt Romney in New York has decided to withdraw his support for Romney and back President Barack Obama instead.... Bill White wrote in a letter addressed to the former Massachusetts governor and obtained by CNN, 'You have chosen to be on the wrong side of history and I do not support your run for president any longer.'"
"Mitt Likes Music, Including This." A fairly funny auto-tune video by the Gregory Brothers, a New York Times "op-doc":
Marin Cogan of GQ reads the Ron Paul forums and reports on the "Seven Stages of Ron Paul Supporter Grief." Kinda funny. Unless you're a Ron Paul supporter.
News Ledes
Raleigh News & Observer: "John Edwards seemed surprised to hear from Rachel 'Bunny' Mellon in August 2008 that she had been providing money to Andrew Young, a friend of the former presidential candidate testified on Tuesday."
ABC News: "A medical report compiled by the family physician of accused Trayvon Martin murderer George Zimmerman and obtained exclusively by ABC News found that Zimmerman was diagnosed with a 'closed fracture' of his nose, a pair of black eyes, two lacerations to the back of his head and a minor back injury the day after he fatally shot Martin during an alleged altercation."
Washington Post: "The Justice Department has initiated a criminal probe into the $2 billion trading loss at JPMorgan Chase, according to a law enforcement source familiar with the situation."
AP: "Greece is headed for another month of political paralysis ahead of new elections in mid-June, after party leaders on Tuesday failed to reach an agreement to build a coalition government."
Washington Post: "Newly installed French President Francois Hollande declared Tuesday that he would propose a 'new pact' to his European partners emphasizing economic stimulus, as he opened a new chapter in Europe's push-pull dispute about whether growth should be stoked through spending or saving."
New York Times: "The Virginia House of Delegates rejected the judicial nomination of a gay prosecutor on Tuesday after conservative Republican lawmakers argued that the nominee would press an activist agenda."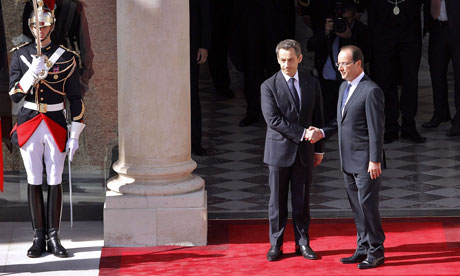 Guardian: François Hollande, France's first socialist leader in nearly 20 years, was sworn in at the Elysée palace on Tuesday in a deliberately low-key ceremony ahead of a meeting in Berlin with the German chancellor, Angela Merkel, at which he will begin his quest to temper Europe's austerity drive."
Guardian: "Rebekah Brooks, the former chief executive of News International, is to be charged over allegations that she tried to conceal evidence from detectives investigating phone hacking and alleged bribes to public officials. Brooks, one of the most high-profile figures in the newspaper industry, will be charged later on Tuesday with three counts of conspiracy to pervert the course of justice in July last year at the height of the police investigation, the Crown Prosecution Service (CPS) announced." New York Times story here.
Reuters: "Jamie Dimon faces growing calls to give up the chairmanship of JPMorgan Chase & Co when shareholders of the bank convene on Tuesday, days after it revealed losses of billions of dollars in trades that were supposed to protect it from risk."
NEW. Politico: "Americans Elect, the deep-pocketed nonprofit group that set out to nominate a centrist third-party presidential ticket, admitted early Tuesday that its ballyhooed online nominating process had failed.... Just after a midnight deadline Monday, the group acknowledged that its complicated online nominating process had failed to generate sufficient interest to push any of the candidates who had declared an interest in its nomination over the threshold in its rules." CW: somewhere in the world, Tom Friedman is weeping.
New York Times: "Iran said on Tuesday it had executed a man accused of being an Israeli intelligence agent responsible for the assassination of one of its nuclear scientists, Iranian state media reported." ...
... Reuters: "Iran's talks with the U.N. nuclear watchdog about Tehran's atomic activities are going well, a senior Iranian official said on Tuesday, the second day of discussions."
Comments Off

Permalink

Email Article